High spirited action at Wink Bingo's Winkstonbury Festival
Hail to thee, blithe Spirit! Wink Bingo offers the chance to embark on a spiritual journey playing some of the hottest bingo and slots games and win a fortune in the Winkstonbury Festival that features a whopping £6000 in jackpot prizes.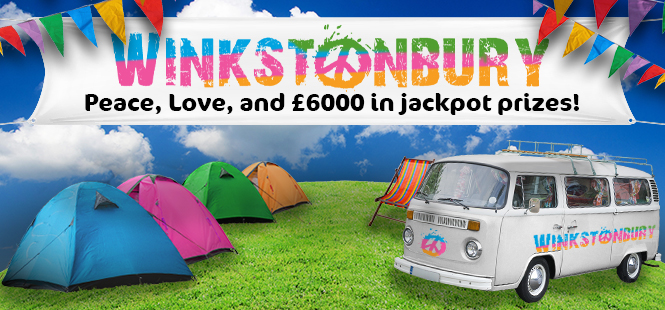 Wink Bingo is all set for summer and promises some surprising treats right until 30th August, 2015. As part of the festival Wink Bingo will host three games that include the Free Spirit Fairground, Fields of Happiness, and the Main Stage. The 'Free Spirit Fairground' is already open with the main game kicking off on the 19th of July at 9pm. This will be a 90 Ball game with a £1500 jackpot. There's £900 going to the lucky player to get 3 lines while 2 lines fetch £400 and 1 line a tidy £200 as well. Tickets cost only 15p and with the opportunity to purchase up to 96 cards there is every chance of win one of those fantastic prizes.

Fields of Happiness game

Next up is the 'Fields of Happiness' 75 Ball game to be held on Sunday, 8th August at 9pm. The room opens on 20th July with the jackpot even bigger at £2000. Get a Full House and you are richer by £1500 while there's £500 for 1 To Go so you don't have to be disappointed if you are one number away from a Full House. Cards for the 'Fields of Happiness' 75 Ball game cost only 20p so don't forget to keep you date with Wink Bingo.

The Main Stage

The prizes get even bigger in 'The Main Stage', which opens on 10th August and plays on Sunday, 30th August at 9pm. The total jackpot is worth £2500 with the biggest share of £1300 reserved for the player who gets 3 Lines. Get 2 Lines and you take home £400 while 1 Line is worth £300. There's £250 each for 2TG and 1TG. At 25p per ticket you can certainly make the most of this game and purchase up to 96 tickets.

The Winkstonbury Festival is certainly going to keep every bingo in high spirits with the prizes getting bigger and better with every game. Winkers, aka Wink Bingo members, can also look forward to plenty of freebies currently in the Winker Freebie room. This is the chance to play games for free from 10am to 10pm with a £20 bonus every hour and a Weekly £1000 where a Full House is worth £500. For more on festivals and promos visit Wink Bingo now.