90 Ball Bingo Guide
Learn how to play 90 Ball Bingo with some Basic Rules and Game Description of one of the most popular versions of online bingo today.
The 90-Ball Bingo is becoming increasingly popular in online bingo rooms. It is usually more common for people to be familiar with the 75-Ball version that is mostly played in North America. The 90-Ball Bingo has always enjoyed a strong hold with the English and Australian players and any bingo room catering to this audience is sure to have it. The greatest advantage to this type of bingo is probably that it is a lot of fun and very easy to learn but there are other reasons to try this version out in your next bingo venture online.
Who Plays 90-Ball Games?

90-Ball Bingo used to be the game of the British and Australian bingo enthusiasts. Recently there has been an interesting trend in the online bingo rooms where this version of the game has become more and more popular. This so much that it is threatening the 75-Ball version to the status as the most popular version online. The Europeans are crazy about this version and if you've never tried it but love bingo it is about time to do so as it is sure to give you a great time.
The Layout of the 90 Card

The 90-Ball Bingo card is called a ticket and it comes with three rows and 9 columns. In each row, five squares are marked with numbers. There is no free space and the squares without numbers are simply left blank. The numbers range, as the name implies, from 1 to 90. The 90-Ball Call Board looks much like the 75-Ball Card Board. It has 6 rows of 15 numbers with a total of 90 possible numbers.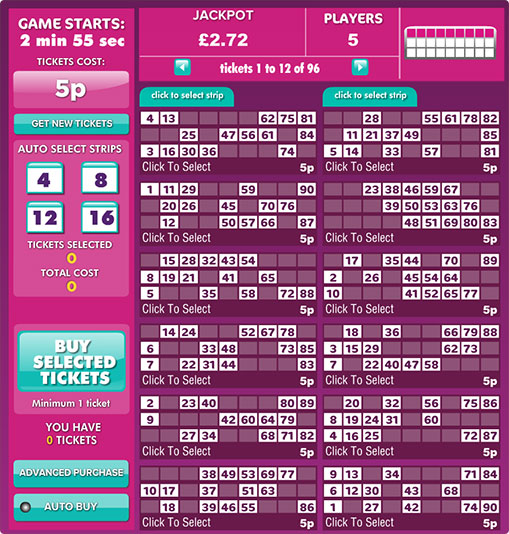 The Basic Game Structure
Login and buy cards (tickets) to play with. A set of 6 tickets is called a strip.
The strip has the numbers 1 to 90 scattered across the different tickets so every number called will be marked off somewhere on your strip.
Each ticket can produce a pattern which gives the player a chance to win several prizes in one game.
Winning Combinations

90-Ball Bingo has many interesting patterns to make although they work a bit differently than the 75-Ball patterns. Since you play with several tickets at the same time you can make several patterns. You can be rewarded for marking off any line or double lines. An exciting winning combination would be to make a full-house where all the lines are marked.
How to Make Money
Like in any online bingo game it is important to keep an eye on what the prize of a game won is. Some bingo rooms focus more on presents than actual cash. Even if there is a jackpot tied to the game you might want to consider joining a game with a progressive jackpot that can reach larger sums than a regular kind would do. Once you've found the game with the most attractive prize you've better make sure that you understand just what combinations makes you eligible to the jackpot or special gift.
Finding the best 90-Ball Games

A bingo player is wise to join an online bingo forum in order to keep up to date with where the best 90-Ball gaming can be found. Things that influence the quality of the game are bonuses, what type of crowd that play in the bingo room and what the chances of actually winning are. Since these things can differ greatly between different bingo rooms it is a good help to keep an eye on what other players are saying.
Advantages to 90-Ball Bingo

The 90-Ball Bingo looks basically the same online as it does in a land based bingo hall. A player that is used to this version will benefit the best by starting with it before trying other versions out. The rules of the game is extremely easy to learn and thanks to all of the automatic functions online anyone can get into the game fast and not risking making silly mistakes. This game is often tied to a progressive jackpot which makes the bingo even more exciting and challenging than what would normally be the case.
Get Social
For those who enjoy to chit chat as they play bingo the Internet is just as social as the local bingo hall. By using the chat room players can get to know the other participants and pick up good advice as the game unfolds. Getting new friends from different countries can be a very nice addition to enjoying a good game of bingo online.
Play Your Favorite Game At Any Of This Best Bingo Sites

Play Bingo Games At