Bingo Rules
Learn the basics of how to play bingo
Bingo is a lottery style game where players mark numbers on a card as they are drawn randomly by a 'caller'. In many ways Bingo is similar to Keno however, in Bingo, there is an element of competition as the top prize is normally reserved for the first person to complete their card by marking all the required numbers.

Depending on the specific game the condition for winning may be that all numbers or marked, or that players make a certain pattern on their printed card such as completing certain rows.

Cards and Patterns

A Bingo card is generally a grid printed on cardboard, containing the player's numbers for that game. Players do not get to choose 'their' numbers in Bingo, as cards are randomly printed. Many experienced Bingo players will play multiple cards at a time (as many as thirty per game). As the game progresses the caller will begin reading randomly drawn numbers and players mark them from their cards.

The winning condition for a game will be specified before it commences. It is common practice for an evening to begin with a single line game, where players simply need to complete one row to win. The games will then become longer as more rows are required to win before a 'full house' game, where all numbers need to be marked, will finish the night.
Some common winning patterns are listed below or in the following bingo patterns guide.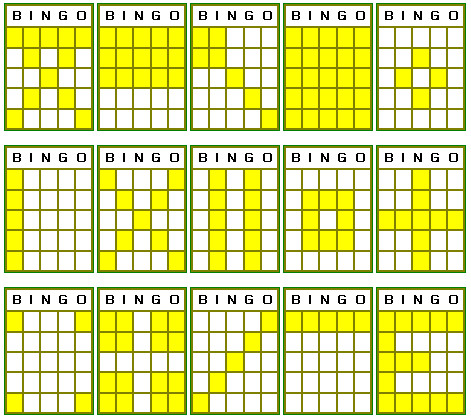 US and UK Bingo

There are small differences between Bingo played in the US and its UK equivalent. In American Bingo a typical card is a 5x5 square (twenty five numbers total), using the numbers 1-75. The cards are laid out so that the letters B-I-N-G-O run across the top, with each letter corresponding to a row. Numbers will only appear in specific rows, for example 1-15 will always appear in the 'B' column and 16-30 in the 'I' column. This makes it easier for players to quickly find numbers called and mark them off. The middle square in this form of Bingo is left unfilled but, for the purposes of the game, is treated as if it had already been marked.

In UK Bingo the format is slightly different, players are given a 9x3 ticket, but each nine square row has only four numbers and four blank spaces, meaning that a ticket contains only fifteen numbers; the games also use the extended number range 1-90. Tickets are sold in strips of six so that any number drawn will be on one of the player's cards.

Bingo Variants

There are a number of popular Bingo variants which you may find in your local hall or in online casinos.

Crazy Bingo allows players to rotate their cards 90, 180 or 270 degrees to create a winning pattern. This generally means that games move faster (as there are more winning combinations). Players must also be more aware of the possibility of a winning pattern which they hadn't noticed. Similarly, In Wild Bingo there is a set winning pattern; but it can be positioned at any point on the card.

In U-Pick'Em Bingo, players are able to pick their numbers, rather than buying randomly generated cards. This further blurs the line between Bingo and Keno, but the variant is permitted in many jurisdictions where Keno is illegal.

Table Bingo blends some elements of the game with other casino favourites like Roulette and Blackjack. Players mark squares on their card with chips and the games may involve Roulette wheels or cards being used to 'draw' numbers.

Quick Shot Bingo does not use a caller to draw numbers. Instead, winning numbers are drawn before the game starts and players are issued sealed cards. If a player is able to mark off a winning pattern they win prizes according to a prize table. Some versions are played until a player wins a 'top' prize, after which the game ends and numbers are drawn again.

Facebook/social Bingo is a development of the game made possible by the internet and social media. These games are typically free to play and involve power ups, virtual gifts and social interaction not possible in other forms of Bingo.

Online Bingo

Like most popular gambling games, Bingo has migrated to the internet and is now offered by many online casinos. These casinos often use their large player base to create growing bingo progressive jackpots, meaning the top prizes may be astronomical compared to the starting stake.

Online Bingo rooms also tend to emphasises the social and competitive elements of the game which attract many customers. Many players are primarily attracted to the fun and bustle of a Bingo hall, ahead of the prize money on offer. Consequently online casinos will often offer an online chat feature and other social elements to attract players.

Play Your Favorite Game At Any Of This Best Bingo Sites

Play Bingo Games At