Use Bovada Poker Points To Enter The Weekly $5K PTS Freeroll
Play the best poker games at Bovada Poker and grab a share of $5,000 at the Weekly $5K PTS Freeroll.
Bovada Poker just made playing poker more rewarding for its players who can now cash in on their poker points and put them to work in their favor in the Weekly $5K Points Freeroll. Bovada is known to offer a wide range of poker games including Texas Hold'em, 7 Card Stud, Omaha and much more. There is also the opportunity to play in poker tournaments that include WSOP qualifiers.

Guaranteed $5K event

The Weekly $5k Points Freeroll is one of the hot offerings from Bovada for sit 'n go grinders who accumulate plenty of poker points. The points are a valuable commodity that can otherwise be redeemed for cash. However, those who enter the Bovada Weekly $5K Points Freeroll have the chance to really make the most of their points even from finishing in a money seat. The weekly tournament is a guaranteed $5K event which allows poker grinders to claim a share of as much as $20,000 per month from using Bovada poker points.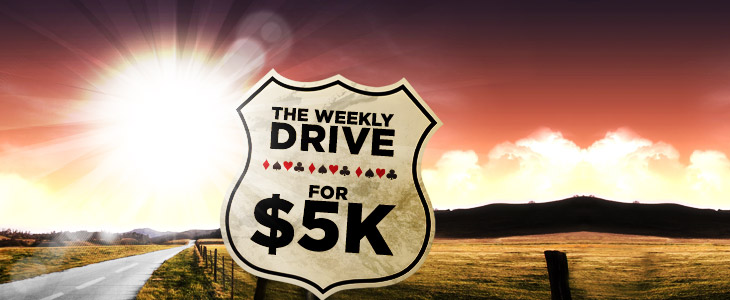 Ways to qualify

The tournament alternates between a regular tournament held on Saturdays at 2.20pm ET and a turbo tournament on Thursdays at 9.20pm ET. Players can buy into the tournaments with accumulated points to qualify for the Freeroll Tournament. The first qualifier costs 200 points and is run every day at 7:40 PM ET. The top 15 are eligible for a seat in the weekly $5,000 Points Freeroll Tournament. Alternatively, there is a 25 points buy-in for the turbo tournament qualifier held daily at 9:40 PM ET where the top 15 get a ticket for the main event.

Bovada hosts a regular tournament costing 1,000 points, which is run every other Saturday at 2:20pm ET. Players with 1,000 points or more can gain entry into the tournament. Apart from the 1000 point buy-in, you can use a tournament ticket won in one of the freeroll qualifiers. The top 20% get to share a slice of the $5,000 Prize Pool. The turbo version of the 1,000 Points buy-in runs every other Thursday at 9:20 PM ET, leaving Bovada poker players with a wide choice to enter the Weekly $5K Points Freeroll.

Poker players looking to boost their bankroll ought to take advantage of Bovada's Weekly $5K Points Freeroll tournament. Every cent counts, and that's no secret especially for sit n go grinders. After all, the points are there to be used, and the tournament is just the way to rake in the big bucks. It's a good reason to sign up with Bovada Poker today, and build up those points for a chance to play the weekly freeroll.