Everygame Poker Review: An Intensive Guide for Online Poker Players
Searching for a reliable and enjoyable online poker platform? There's every chance Everygame Poker may be the one you've been looking for.

This platform has quickly built a strong reputation for its functionality, user-friendly interface, and great variety of games. But don't just take our word for it; let's delve deeper and explore some key aspects of Everygame's online poker operation.
Since gaining the new Everygame name as the latest evolution of the long-running gambling operator Intertops, Everygame Poker has demonstrated its commitment to providing a safe and secure environment for online poker fans. On the platform, you'll find top-notch encryption technologies employed to ensure that your personal information and finances are always protected. While holding of course a Curacao-issued license.
An exciting aspect of Everygame Poker is the diverse range of games and tournaments available, catering to players of all skill levels. So, whether you're a seasoned pro or a newcomer to the poker scene, you're sure to find the perfect game to flex your poker skills. The platform also offers a wide range of promotions, bonuses, and rewards that will keep you hooked and coming back for more.
A Brief Overview of Everygame Poker
Once you're on the Everygame Poker site, you'll immediately notice the wide variety of options available for poker enthusiasts. It's a well-established platform, offering a multitude of games and tournaments to keep players engaged and entertained. You'll find the standard game types, such as Texas Hold'em and Omaha, as well as less common games like Telesina Poker and Omaha Hi-Lo.
When you create an account, you become eligible for generous bonuses and promotions. Welcome bonuses often include free spins for the casino and match deposit offers, creating an added incentive to join this thriving poker community. The site offers various deposit and withdrawal methods, making it easy to manage your bankroll and secure your winnings.
Here's a quick list of some prominent features you'll encounter:
Online casino integration: Enjoy a wide range of casino games alongside your poker play at either of Everygame's two casinos – Casino Red and Casino Classic.
Frequent Player Points (FPP) and Gold Chips: Earn rewards as you play and advance through the loyalty program tiers.
Variety of tournaments: From multi-table tournaments and sit-n-gos to satellite and freeroll poker events, you'll find plenty of opportunities to test your skills.
Rakeback options: Stay on top of your rakeback earnings through their convenient rakeback program.
Instant Play platform: Play poker directly from your browser without having to download any software.
With a strong reputation and a solid history in the online gaming industry thanks to the Intertops association, Everygame Poker is a popular choice among online poker fans. They operate on the Horizon Poker Network, providing a secure and reliable gaming experience. Their mobile app allows you to play poker on-the-go on your mobile device, ensuring you never miss a moment of excitement.
Safety is a priority, which is why they employ strict security measures and offer trustworthy payment methods, such as Visa, Mastercard, Neteller, and Bitcoin, among others. Players from around the world, including the United States, can enjoy their online poker games without worry, knowing that their personal information and funds are well-protected.
In conclusion, if you sign up for an account, you'll be playing at a top class poker room that caters to both casual players experienced players rollers alike. The platform delivers a great combination of gaming options, promotions, and a user-friendly interface, resulting in an enjoyable experience for all poker enthusiasts. Give Everygame Poker a try, and you might just find your new go-to poker site.
The Generous Welcome Offer
When you're looking for an online poker site, selecting one with a generous welcome bonus is always a smart move. At Everygame Poker, new players are treated to an enticing offer that's hard to resist. In this section of our Everygame Poker review, we'll delve into the specifics of their welcome offer and show you why it's worth considering.
At Everygame Poker, new players can look forward to a 200% deposit bonus up to $1,000. To claim this welcome bonus, you'll need to make your first deposit using the bonus code provided on the site. The bonus will then be credited automatically to your account in increments of $5 as you earn Frequent Player Points (FPPs). The more you play, the quicker you'll receive your bonus funds.

Here's a breakdown of some key aspects of this Welcome Offer:
200% deposit bonus: Receive double the amount of your initial deposit up to $1,000.
Bonus code: Required to claim the welcome bonus, found on Everygame Poker site.
Frequent Player Points (FPPs): Earn points by participating in cash games and tournaments, which then release bonus funds.
Besides the attractive deposit bonus, Everygame Poker also showers new players with 25 free spins in their casino games. As you can see, Everygame is quite generous when it comes to offering bonuses and promotions that will help you get the most out of your gaming experience.
Everygame Poker understands the importance of encouraging new players to join their platform. That's why they've created a competitive and enticing welcome offer that stands out among other online poker sites. Worth considering if you're looking to kick off your poker journey on the right foot!
Please note that terms and conditions apply to the welcome offer, so it's always a good idea to thoroughly read and understand these before making your first deposit. This way, you can ensure you're making the most of their promotions and avoiding any unexpected roadblocks.
In short, for a great start to your online poker journey, the generous welcome offer at Everygame Poker is definitely something you should take advantage of. With a 200% deposit bonus and free spins in their casino section, you'll have plenty of opportunities to explore and enjoy this exciting poker room.
Game Selection and Variants
Everygame Poker offers an expansive range of games, sure to satisfy all your poker needs. With a comprehensive package of poker variations, you'll never get bored exploring the different game formats.
Some game formats you can expect to find include:
Texas Hold'em: The classic game that's adored by poker players worldwide. Offered in No-Limit, Pot-Limit and Fixed-Limit versions.
Omaha: A thrilling and action-packed poker variant that deploys four hole cards for each player. Available in both Pot-Limit Omaha (PLO) and Omaha Hi-Lo formats.
Telesina Poker: Enjoy a riveting 5-card stud variation with an interesting twist, particularly popular in Italy.
Stud Poker: Experience the thrill of Stud games, where players are dealt a mixture of upcards and downcards over multiple betting rounds.
Everygame poker room hosts various types of tournaments that cater to players' diverse preferences. Participating in tournaments can be an excellent way to test your poker skills against opponents, while potentially scoring big cash prizes.
The tournaments include:
Multi-table tournaments (MTTs)
Sit and Gos (SNGs)
Freeroll poker tournaments
Satellite tournaments
Everygame Poker ensures both casual and competitive players will feel satisfied with its selection. From low to high stakes, there are options for everyone's individual bankroll.
Everygame Poker Review also highlights the exciting promotions available to players. Upon signing up, you'll receive a generous welcome bonus, which includes free spins and deposit bonuses. Regular players can benefit from Frequent Player Points (FPPs) and Gold Chips programs that reward your loyalty and time spent on the platform.
Bonuses are available in various forms, such as:
First deposit bonuses
No deposit bonuses
Casino bonuses
Progressive jackpot promotions
Instant play is an option for players who do not wish to download the poker client on their computers. Play directly from your browser on both desktop and mobile devices, ensuring accessibility for all users.
The Mobile App extends the poker experience to your handheld devices, allowing you to play your favourite games while on the move. You'll never be too far from the action or miss a chance to partake in your favourite tournament with Everygame Poker.
Trustworthy and secure, Everygame Poker operates under a gaming license issued in Curacao. Players can feel confident in the platform's security measures and fair gaming practices.
Offering a multitude of payment and withdrawal methods, Everygame Poker accommodates the preferences of many. Some popular methods include:
Credit/Debit Card
Neteller
Skrill
Bitcoin
Prepaid methods
All in all, this section of the Everygame Poker Review showcases the enticing game selection and robust offerings available. Combining an extensive variety of poker games, tournaments, promotions, and accessibility, Everygame Poker is a great choice for any poker enthusiast.
Taking a Look at the Software
Everygame Poker has been around for a while and their software is designed to offer a seamless and enjoyable experience for poker players. The platform provides a variety of features to enhance your gameplay, such as:
Instant Play option, allowing you to play directly from your browser.
Mobile app available for both Android and iOS devices.
Variety of game types, including Texas Hold'em, Omaha, and Telesina Poker.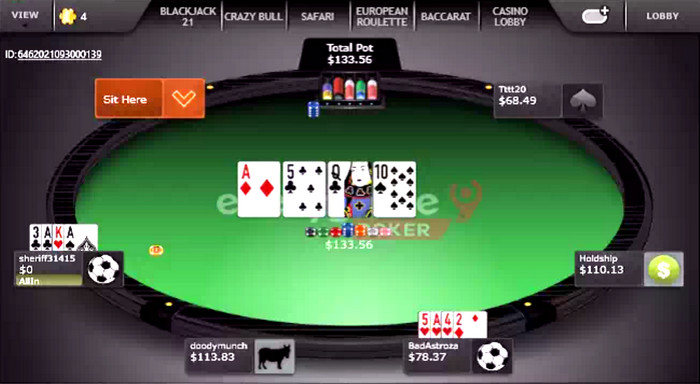 You'll find that the Everygame Poker software is user-friendly, making it easy for both new and experienced players to navigate. The lobby presents a clear view of the available tables, with a filter option to find your preferred game type and stake level. Moreover, the tables themselves have a clean design, ensuring a comfortable experience as you play. One noteworthy feature of the software is the Frequent Player Points (FPP) system, enabling you to accumulate points which can be converted into Gold Chips. These Gold Chips can then be used to access valuable promotions or participate in special events. The more you play at Everygame Poker, the more FPPs you'll earn, ultimately contributing to an increasingly rewarding experience.
Regarding fairness and security, the Everygame Poker platform is part of the Horizon Poker Network, ensuring you can trust its gaming integrity. The software incorporates a Random Number Generator (RNG) to guarantee card shuffling and dealing fairness, and the platform employs SSL encryption technology to keep your personal information and transactions secure.
Let's not forget about tournaments. Everygame Poker hosts a wide range of tournaments, from Freerolls to Multi-Table Tournaments (MTTs) with varying buy-ins, ensuring there's something for everyone. The site also offers unique features like Bubble Protection, where you can secure your buy-in when finishing just outside the money in certain tournaments.
Of course, there's always room for improvement. Some players may find the software's graphics and design to be a bit outdated compared to other online poker sites. However, its overall functionality and usability can easily overshadow this minor drawback.
To sum up, Everygame Poker's software provides a complete and enjoyable experience for poker players, offering a broad range of features, game types, and tournament options. Its FPP system and Gold chips further enhance your gameplay experience, ensuring you'll want to return to the virtual tables time and time again.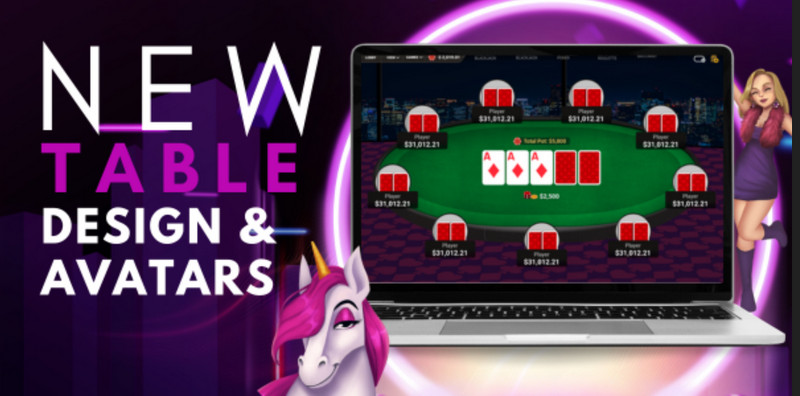 Everygame Poker Mobile Experience
With the increasing demand for on-the-go online gaming, Everygame Poker has stepped up its game with a versatile mobile experience. Catering to poker enthusiasts, the mobile app offers a solid gaming environment that allows you to enjoy numerous gaming options right at your fingertips. Poker players looking for a smooth and user-friendly experience will appreciate the app's sleek design and intuitive interface. Navigating through the well-organised lobby, poker fans will find various poker games such as Texas Hold'em and Omaha, as well as other casino games, making it an all-encompassing experience.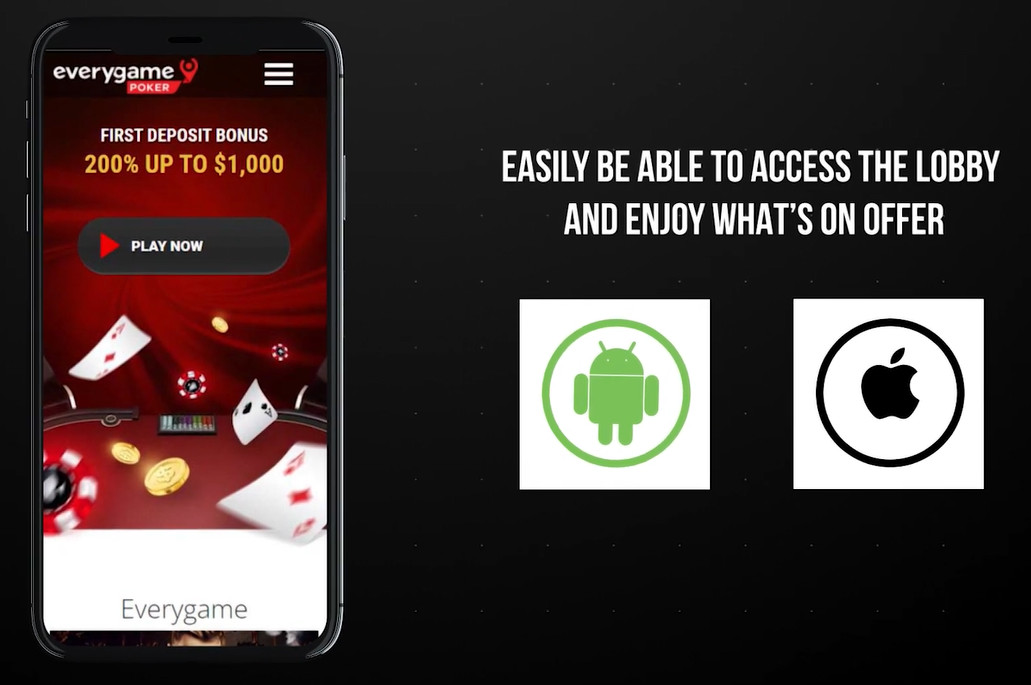 Depositing money into your account is a straightforward process, thanks to the wide array of payment and withdrawal options available, including both conventional methods like Visa, Mastercard, Neteller and Skrill, as well as cryptocurrencies like Bitcoin. This flexibility ensures a seamless and secure financial experience.
Compatibility isn't an issue with Everygame Poker, as the mobile app runs smoothly on both Android and iOS devices, while the instant play feature makes it possible for those without the app to access the poker room via a mobile browser, ensuring you never miss out on exciting poker tournaments or cash games.
Speaking of tournaments, there are various types of poker tournaments available, including:
Multi-table tournaments
Sit and Gos
Freeroll poker tournaments
Satellite tournaments
To boost your gaming experience further, when you sign up, you're eligible for attractive deposit bonuses and continuous promotions. The comprehensive loyalty program rewards frequent player points (FPP) and gold chips, which can be used for various perks such as tournament entry fees and bonuses.
Customer support, often a concern for online gamers, is duly addressed by Everygame Poker, with responsive live chat and email support available. This ensures any queries or issues you have are resolved quickly and efficiently.
In summary, Everygame Poker's mobile experience caters to the needs of online poker players with an appealing app, an extensive game selection, flexible payment options and excellent customer support. Players can feel confident knowing they're engaging in a rewarding and enjoyable online poker platform when choosing Everygame Poker.
Deposits and Withdrawals Made Easy
When it comes to handling your money at Everygame Poker, rest assured that depositing and withdrawing funds is an effortless process. Multiple options are available for players to choose from, making your experience as seamless as possible.
Everygame Poker offers a diverse range of payment methods to suit the needs of poker players around the world. Some popular options for depositing money include:
Visa
MasterCard
Skrill
Neteller
Bitcoin and other cryptocurrencies
Withdrawal options are also plentiful, ensuring that when it's time to cash out your earnings, you won't face any unnecessary obstacles. Some of the most convenient withdrawal methods available at Everygame Poker include:
Bank transfers
Skrill
Neteller
Bitcoin and other cryptocurrencies
Everygame Poker successfully accommodates users with different preferences, making deposits and withdrawals a worry-free experience.
On top of user-friendly payment methods, Everygame Poker is known for having fast withdrawal times. Depending on the chosen method, players should typically receive their funds within a few hours up to a few business days. This speedy cash-out process is a significant advantage for those who like to have immediate access to their winnings.
What's more, Everygame Poker understands that security is a top priority for poker players when managing their finances on an online poker site. To protect your personal information and funds, the platform uses cutting-edge data encryption and follows industry-standard security procedures. With Everygame Poker, you can be certain that your money is in safe hands.
While most payment methods at Everygame Poker do not entail fees, there might be some charges when using specific methods. Before making a deposit or requesting a withdrawal, it's wise to review the different options available to avoid any unexpected costs.
In summary, Everygame Poker's flexible deposit and withdrawal options, together with its expedited processing times and robust security measures, make it an ideal choice for poker enthusiasts who demand hassle-free banking.
Remember, this is just one section of our comprehensive Everygame Poker Review. Be sure to explore the other sections for a detailed analysis of the platform's features, games, and promotions, giving you everything you need to make an informed decision about joining the world of Everygame Poker.
Keeping You Safe and Secure
When playing at Everygame Poker, it's vital that you feel safe and secure whilst enjoying your favourite poker games. This section will delve into the precautions taken by Everygame to ensure your personal and financial details are protected.
Everygame Poker uses advanced SSL encryption technology to safeguard your transactions and sensitive information. This means that whenever you're depositing or withdrawing funds, your data remains confidential and out of reach from any prying eyes.
To maintain a fair and unbiased gaming environment, Everygame Poker utilises a Random Number Generator (RNG). This system ensures that every player has an equal opportunity to win by generating random outcomes for each hand dealt. You can trust that the games on this platform are truly random and not rigged in any way.
As part of the responsible gambling policy, players get access to multiple tools to help maintain control over gaming activities. Some of these options include:
Deposit limits: Set a maximum limit on the amount you can deposit on a daily, weekly or monthly basis to restrict your spending.
Self-exclusion: If you feel the need to take a break from playing poker, you can request a temporary or permanent self-exclusion period.
Cooling-off period: This feature allows you to take a short break from poker action without fully excluding yourself from the site.
There's also a strong commitment to preventing underage gambling by confirming the age and identity of all new players. You'll be required to provide proof of your age before playing for real money on this platform.
Finally, when it comes to the financial aspect of your poker experience, Everygame Poker supports a wide range of payment methods for your convenience. Not only do they offer traditional options like credit and debit cards but also modern alternatives like e-wallets, prepaid cards and cryptocurrencies. All these payment methods are carefully vetted, ensuring their reliability and timeliness of transactions.
To summarise, Everygame Poker takes numerous measures to ensure that your time spent on their site is safe, secure and enjoyable. By employing advanced encryption technology, implementing RNG and offering various responsible gambling tools, you can confidently play your favourite poker games without any worries.
Customer Support When You Need It
Everygame Poker understands the importance of offering top-notch customer support to its players. As a poker player, it's reassuring to know that assistance is just a click or call away. In this section, we'll take a closer look at the customer support options available at Everygame Poker.
The primary means of contacting the customer support team is through Live Chat. This feature is available 24/7, ensuring that you'll get help whenever you need it. Simply click on the live chat icon on the site to start a conversation with one of their friendly and knowledgeable customer support representatives.
For players who prefer to use email, Everygame Poker provides a dedicated email address for support queries: [email protected]. They typically respond to emails within a few hours, but you may experience a longer waiting time during peak hours.
In case you have an urgent issue or need to speak with a representative directly, the site offers a toll-free telephone number for players in certain countries. This option is great for players who want an immediate and more personalized response to their query. Be sure to check the Help section on their website for the correct phone number for your region.
Furthermore, Everygame Poker also offers an extensive FAQ section on their site. This section covers a wide range of topics, from account registration to deposit and withdrawal methods. It's an excellent resource for players seeking quick answers to common questions.
To sum up, Everygame Poker provides various customer support options to cater to different player preferences. Here's a quick recap of the support options available:
Live Chat: Available 24/7 for instantaneous help.
Email Support: Contact them at [email protected] for assistance via email.
Telephone Support: Toll-free numbers for various countries, with prompt response times.
FAQ Section: Answers to common questions and issues.
By offering multiple customer support channels, Everygame Poker ensures that your online poker experience is as smooth and enjoyable as possible. It demonstrates their commitment to providing a high level of user satisfaction and maintaining their solid reputation within the poker community. With 24/7 support available, you'll never have to worry about getting the help you need – leaving you free to focus on enjoying the game!
Promotions and Loyalty Rewards
Everygame Poker offers a variety of promotions and loyalty rewards designed to keep players engaged and coming back for more. In this section, we'll delve into the details, from welcome bonuses to ongoing promotions and the loyalty program available to dedicated players.
Welcome Bonus: As a new player, you'll receive a generous welcome bonus package, which includes a 200% first deposit bonus up to €1,000. You'll also receive 25 free spins on a specified casino game. Just be sure to use the bonus code provided when making your deposit.
Ongoing Promotions: There's no shortage of ongoing promotions for regular players. Examples include:
Frequent Player Points (FPP): Earn FPPs just by playing real money games on Everygame Poker. Accumulate points and then convert them into real cash or use them to enter special FPP tournaments.
Bubble Protection: Play in designated tournaments and gain bubble protection, ensuring you receive a portion of the prize pool even if you finish just outside the paying positions.
Sundowner Tournaments: Daily and weekly Sundowner tournaments with guaranteed prize pools provide you with the chance to win big without investing a fortune in the buy-ins.
Gold Chips and Loyalty Tiers: Everygame Poker has a Loyalty Rewards program featuring Gold Chips and reward stages:
Gold Chips: You'll earn these by participating in real money cash games and tournaments. You can then use them to enter jackpot freerolls or to purchase merchandise from the Everygame Poker store.
Tier 1: Once you accumulate enough points, you will gain entry to this loyalty tier, which offers entry into special tournament events and various promotional deals.
Tier 2 and higher: As you progress through the various stages of the loyalty program, the rewards become even greater, including higher rakeback percentages and exclusive access to even more lucrative events.
Staying loyal to Everygame Poker not only allows you to maximise your potential on this exciting platform but also gives you the chance to enjoy exclusive promotions and incentives. It's clear that Everygame Poker puts a strong emphasis on retaining its players by offering these attractive opportunities. So, don't miss out on these benefits and make sure to keep playing poker at this well-reviewed online poker site!
Wrapping Up Our Everygame Poker Review
By now, you've taken a deep dive into this Everygame Poker review. It's time to wrap things up and consider if this online poker site meets your needs. We've thoroughly reviewed different aspects such as the games, software, and more features.
Everygame Poker stands out with a diverse range of games such as Texas Hold'em, Omaha, and even Telesina Poker. You'll find everything from cash games, multi-table tournaments, and sit and gos. The platform is part of the Horizon Poker Network, offering reliable gameplay and a solid player base.
Everygame Poker's bonus system is worth considering, with welcome bonuses that include deposit matches and free spins, as well as various promotions tailored for regular players. Their loyalty program, based on Frequent Player Points (FPP) and Gold Chips, ensures that your time spent playing is rewarded with useful extras.
Some of the noteworthy features include:
Bubble protection in specific tournaments.
Mobile app for on-the-go play.
Instant play option for those who prefer not to download software.
Wide selection of payment and withdrawal methods such as credit/debit cards, e-wallets, and cryptocurrencies
While Everygame Poker has much to offer, there are some drawbacks. For instance, some US states like New York, Washington, and Maryland are restricted, And IOHO, the platform could improve its customer support by offering a live chat option.
In conclusion, Everygame Poker certainly has a lot going for it in terms of game variety, promotions, and user experience. Although there may be some areas for improvement, this site is worth considering if you're in search of a new poker room. Assess your preferences, consider the pros and cons, and see if Everygame Poker matches your needs. Happy gaming!