Rich Casino Begins Year With Raffle Promotions
Rich Casino kicks off 2015 with a range of promotional events with high end prizes
Rich Casino is the place to head if you want to escape winter blues. All you have to do is pick up a ticket for the Super Bowl Raffle between January 1st and January 18th and get the chance to win 2 Super Bowl tickets. The casino promises to cover all your transport and accommodation costs so it doesn't matter how far you are from the University of Phoenix Stadium, Glendale, Arizona. Every deposit of $50 is worth 1 ticket while there is no limit on how much you purchase. The lucky winner will be chosen through a random draw at the end of the promotion, so hurry and get your tickets today. Prizes cannot be exchanged for cash.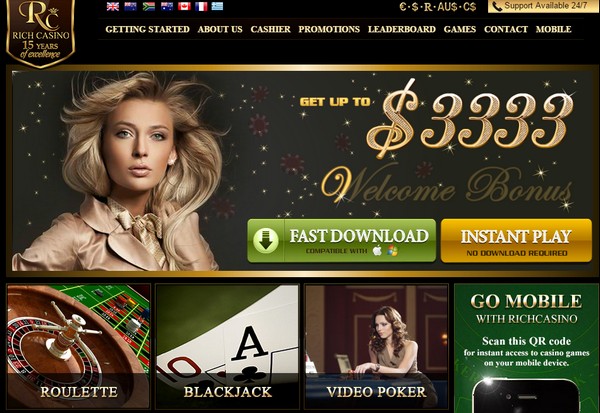 All roads lead to Rio in the Road to Rio Raffle

If the Super Bowl isn't exciting enough, Rio is sure to catch a player's fancy. Rich Casino has taken its raffle promotions a notch higher with its Road to Rio Raffle. Each deposit of $100 at the casino is worth 1 raffle ticket. The promotion is on all of January so there still time to increase your chances of heading to Copacabana for a grand vacation. The lucky winner gets an exclusive package comprising of a trip for 2 to Rio de Janeiro, carnival tickets, 5-star accommodation and $2000 in spending money. The winner will be decided randomly at a draw held right after the promotion ends.

Bingo Weekend Raffle

Rich Casino's made sure that bingo fans aren't left out. The casino invites players to participate in their The Weekend Raffle, giving bingo enthusiasts a great start to the week. You can participate in the promotion every Saturday and Sunday and get the opportunity to win some fantastic prizes. For every $100 deposit you get 1 ticket for The Weekend Raffle. The first prize is a Canon EOS Rebel SL1 while there is a Samsung home theater system, Samsung Smart LED TV, BenQ home theater projector, and a Suunto heart rate monitor for the next four lucky places. That's more than enough to keep you heart beating faster as the time for the draw comes near, which is as soon as the promotion ends.