Multiplayer Live Roulette
Play Multiplayer Roulette Live
Roulette has always been one of the most popular games of chance at land as well as online casinos. In fact, the roulette wheel is so well-known that even players who have never placed a bet in their lives know exactly what it looks like. Needless to say, an online or land casino cannot even be called a casino if it does not have a roulette wheel. Perfectly understanding the popularity of roulette, online casino gaming software providers have developed a wide range of roulette variants such as French Roulette, Mini Roulette, 3D Roulette, Live Roulette, and Multiplayer Live Roulette.

How to Play Multiplayer Live Roulette
Multiplayer Live Roulette is played just like any standard game of roulette is played in a land casino. The aim of the players is to predict correctly the outcome of a spin of the roulette wheel or, in other words, players need to bet on a number, color, or combination of numbers and if the roulette ball comes to rest on their selected number, number combination, or color, they will win the game.
Although playing multiplayer live roulette is as simple as placing a bet and waiting for the outcome, the game includes a wide range of betting options that can overwhelm the beginner. There are two major varieties of bets in roulette—the Inside Bets and the Outside Bets. While Inside Bets are placed on the number range of 0 to 36, the Outside Bets are placed on combinations of 2 – 12 numbers, colors, and odd/even numbers.
While choosing a multiplayer live roulette table, players should take care to ensure that the betting limits are affordable. A game of roulette also includes a betting period, within which players need to place and confirm their bets. Once the croupier announces, "No more bets," players cannot place any more bets.
When the roulette ball comes to rest after one spin of the roulette wheel, the winning numbers and number combinations are announced and those players who have won their bets will get paid and the next game will begin.

Roulette Bet Types
As previously mentioned, there are two major varieties of roulette bets—the Inside Bets and the Outside Bets.
The Inside Bets include the Straight Bet or a bet placed on one number, which pays 35:1; the Split Bet or a bet placed on two numbers, which pays 17:1; the Street Bet or a bet placed on three numbers, which pays 11:1; the Corner Bet or a bet placed on four numbers, which pays 8:1; the Line Bet or a bet placed on six numbers, which pays 5:1.
The Outside Bets include Column Bets or bets on groups of 12 numbers, which pays 2:1; bets placed on black or red pockets, which pay even money; and bets placed on odd or even numbers, which also pay even money.

Microgaming Multiplayer Roulette
Microgaming's Multiplayer Roulette launched last year has a number of attractive features such as "Table Action," which enables players to not only see the table positions of other players, but also the bets they have placed. A group of 7 players can play roulette at a time thanks to this variant. Since each player can interact with the croupier, this game gives players the authentic live casino gaming experience.
Microgaming Casinos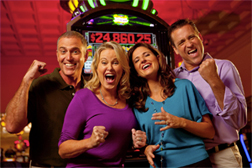 Live dealer roulette games are immensely popular, owing to which they are available at any prominent online casino that offers live dealer roulette games. All players need to do is identify a good live dealer online casino, register a real play account, grab the new player bonuses and offers, and get started with their favorite game.