Pragmatic Play latest release - Rabbit Garden™ Slots
Hippity hop on down for some tasty vegetables and some cool and crisp spring wins.

Introducing Rabbit Garden. a springtime themed slot released by Pragmatic Play on 23/03/2023. This 7x7 high volatility slot has an RTP of 96.05%, pays out when the player hits a cluster of five or more symbols that are connected either horizontally or vertically. The game also offers a cascade feature, where winning combinations are removed from the board, allowing additional symbols to fall down and replace them, which can unlock additional winning payouts.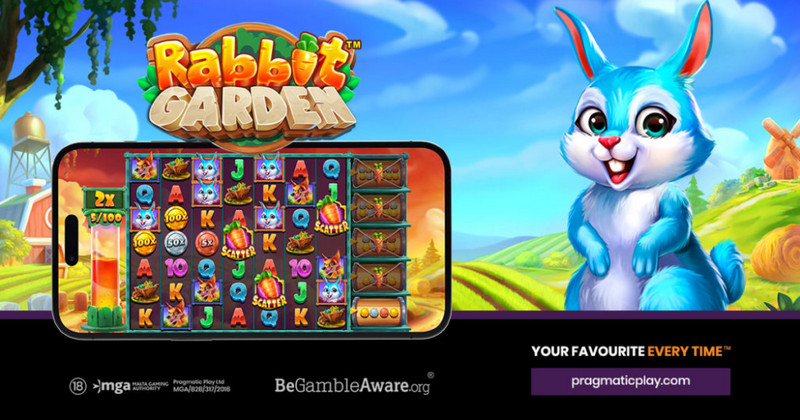 Rabbit Garden features three higher paying symbols, the rabbit, the wolf, and the cart full of vegetables. Then you have four basic lower paying symbols, the A, K, Q, and J. Finally there is a carrot Scatter. If you hit four or more Scatter symbols you trigger the Free Spins bonus round as well as an immediate cash jackpot based upon how many Scatters you hit simultaneously up to a maximum of seven.
Another interesting aspect to this game is the coin symbols. Coins take a random value of anywhere from 1x to 1000x your base bet. Then, if you hit a winning combination of symbols which are beside a coin, then you receive an immediate cash payout equal to that coin's value.
Rabbit Garden

Free Spins

During the free spins round, you are guaranteed to have coins with random values appear on the game field. The number of coins increases with each free spin, so that you start with four, then on your second spin you get six, on your third you get eight, on your fourth you get ten, and finally on your fifth spin you get twelve.

You can also trigger additional free spins by earning sufficient points. Points are awarded for winning combinations and coin payouts. Earn thirty points and you reach level two. Your free spins are reset to five, and your winnings are multiplied by two. Earn 45 points at level two and you go to level three, where your winnings are multiplied threefold. Earn 60 points at level three and you go to level four, where your winnings are multiplied five fold. Earn ninety points at level four, and you go to level five, where your winnings are multiplied tenfold. Level five is the final level, and once you get there you stop accumulating points.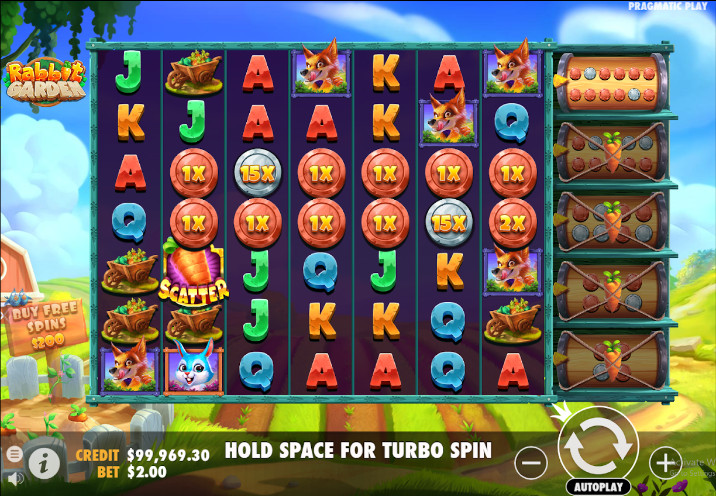 Conclusion
Overall, we were decently impressed with Rabbit Garden. After a long, cold winter, we're all pretty excited for the spring, and this slot really captures the optimism and joy of the season. Overall the artwork and musical score is very well suited to the game, making excellent use of light colors and soft yet exuberant notes to create an immersive and enjoyable experience for the end user.
The game play is simple yet sophisticated, offering a number of possible ways to win with both the base symbol payouts as well as the coin mechanics. This coupled with the free spins bonus round featuring increasing multipliers is enough to keep the game new and interesting. Now this is a high volatility slot, so players should go into that knowing what to expect. But if you enjoy variance and want to go big or go home, then Rabbit Garden might be right up your alley.