The Lost Secret of Atlantis Slot
Kicking off the New Year is the release of Rival's latest slot game –The Lost Secret of Atlantis
Scheduled for launch on January 22nd, this exciting new game is expected to turn some heads. With 25 pay-lines and 5 reels, the Lost Secret of Atlantis takes you on an exploration beneath the waves for a chance to discover the hidden treasures of this infamous lost city.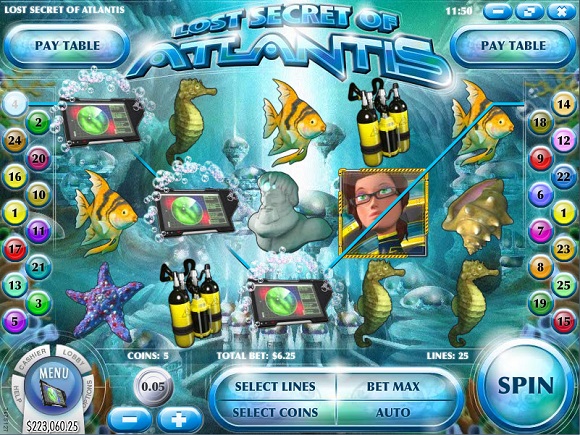 What immediately draws you in is the game's amazing graphics and attention to detail. The game's theme is fully developed and comes out in every feature. The storyline follows an explorer in her submarine who embarks on a journey to the ocean floor. Equipped with oxygen tanks and GPS, she goes in search of the lost city of Atlantis. Included as its undersea icons are several oceanic symbols including a starfish, a shell, a tropical fish, seahorse and a sea creature. Other icons include the mysterious golden ring and an ancient statue. A great white shark plays the part of the game's wild symbol that can expand to fill all the reels and replace all other symbols to form a winning combination. These expanding wilds will appear on the first, second and third reels. All winnings received by the wild symbols will then be multiplied by the number of wilds appearing on the screen.
The Lost Secret of Atlantis also features a bonus round and free spins. The game's bonus rounds can be triggered by the appearance of three or more sea creatures. Once this feature has been triggered, the sea creature will offer players three secret spheres. Depending on a player's choice, the spheres will award a predetermined number of coins. For a combination including three or more submarine symbols, the free spins feature will be activated. These submarine symbols can appear anywhere on the screen in order for the feature to be triggered. For three symbols, players will be awarded 10 free spins, for four symbols, an amount of 20 free spins will be awarded and for five submarine symbols, players will receive an amazing 75 free spins. Without a doubt the best part of this feature is that all free spins come with a multiplier of 3X. The game's Jackpot feature revolves around the golden rings. During which, all wins will be multiplied by the number of coins staked per-line, all of those except for scatter symbols.
Coming soon, this game will be featured at two of Rival's top casinos: Slots of Fortune and Golden Cherry. With its high-speed game-play, amazing design and exciting features, the Lost Secret of Atlantis is certainly expected to be a hit. Look for this game starting January 22nd 2014.