Zoom Poker
What is Zoom Poker?
PokerStars, the largest online poker room in the world, launched a high-speed variant of online poker called Zoom Poker in mid-May this year. Zoom Poker saves poker players from waiting for a table and delivers the excitement of continuous high-speed poker. Popular online poker variants such as Five Card Draw, Omaha Hi/Lo, No Limit Hold'em, and Omaha are available in a wide range of limits in the Zoom Poker format.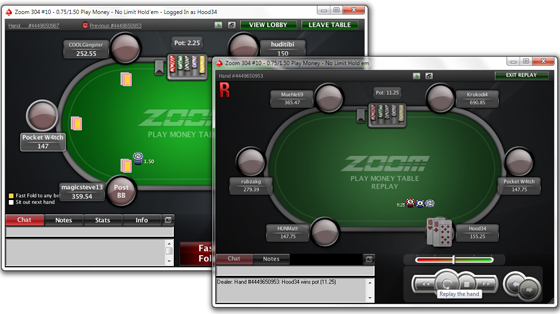 Interesting Features

Unlike cash games, Zoom Poker is very fast. Players do not need to choose their table; instead, the software gives then any available table. As soon as players fold, they are immediately moved to another table. Adventurous players can also play as many as four tables simultaneously. Zoom Poker, therefore, is quick, fun, and forms a great way to earn points and boost one's bankroll. In other words, Zoom Poker provides an unbeatable high-speed online poker experience.

What is Zoom Poker?

PokerStars, the creator of Zoom Poker, calls it "more poker, less time" on its official Zoom Poker page. Since Zoom Poker moves at a rapid pace, a player finds his/her opponents changing with every poker hand. Since players are playing not against a fixed set of opponents at one poker table, but in a constantly changing player pool, Zoom Poker delivers a fast poker experience that cannot be found anywhere else.

How Zoom Poker Works

Understanding how Zoom Poker works is incredibly simple. Players will be given a table, and if they fold, they will be given another table and another poker hand instantaneously. Players are free to fold anytime they wish; they can even use the Fast Fold option that enables them to fold even out of turn and move to the next table. Players can also use the CTRL key when they fold to view the previous hand played for valuable insights into the game.

One of the best features of Zoom Poker is that it is available for Omaha, Hold'em, and Draw poker games, at limits ranging between $0.10/$0.02 and $2.50/$5.00, which makes it suitable for players with different bankrolls. Zoom Poker is also available free of charge.

Accessing Zoom Poker games is as easy as visiting the PokerStars gaming lobby and hitting the Zoom tab. Players who are always on the move can download the PokerStars Mobile application on their mobile devices and play Zoom Poker irrespective of their location.

Finer Details

Online poker players who would like to play a game of Zoom Poker must first visit the games lobby, select the Zoom tab, and choose their limit and game. The next step is to hit the Join Game tab. The PokerStars software will then prompt players to enter they buy-in amount and number of tables they would like to play.
After entering the required details, players have to hit OK. PokerStars will then place them in a pool of players, and usually, the newly joined player will have to play the big blind. Players who fold will be instantly moved to another table and another hand.